Getting to the Galápagos Islands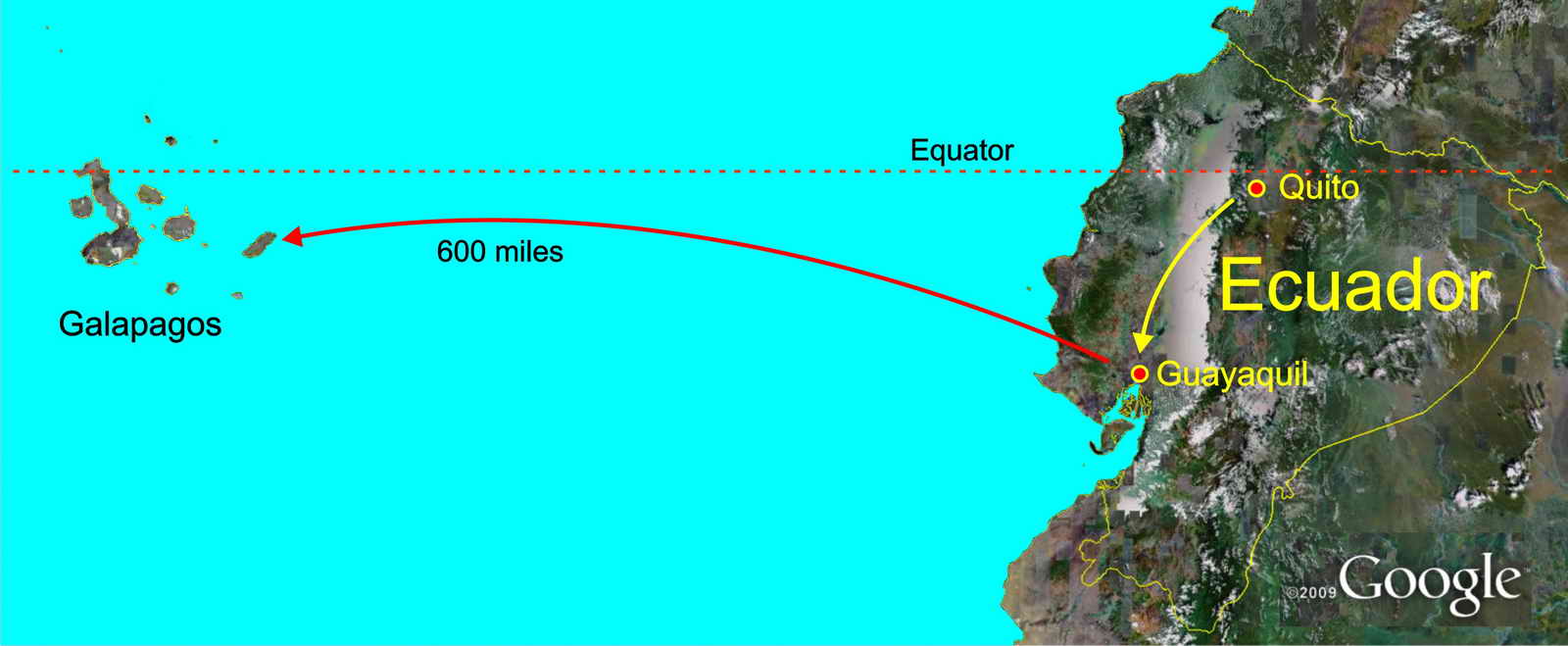 The Galápagos Islands are 600 miles off the west coast of Ecuador.
The options for getting here by water are very limited and generally not recommended, unless you arrive in your own yacht.
For most travellers, the only viable option is to fly.
Check here for the Entry Requirements for Ecuador and Galápagos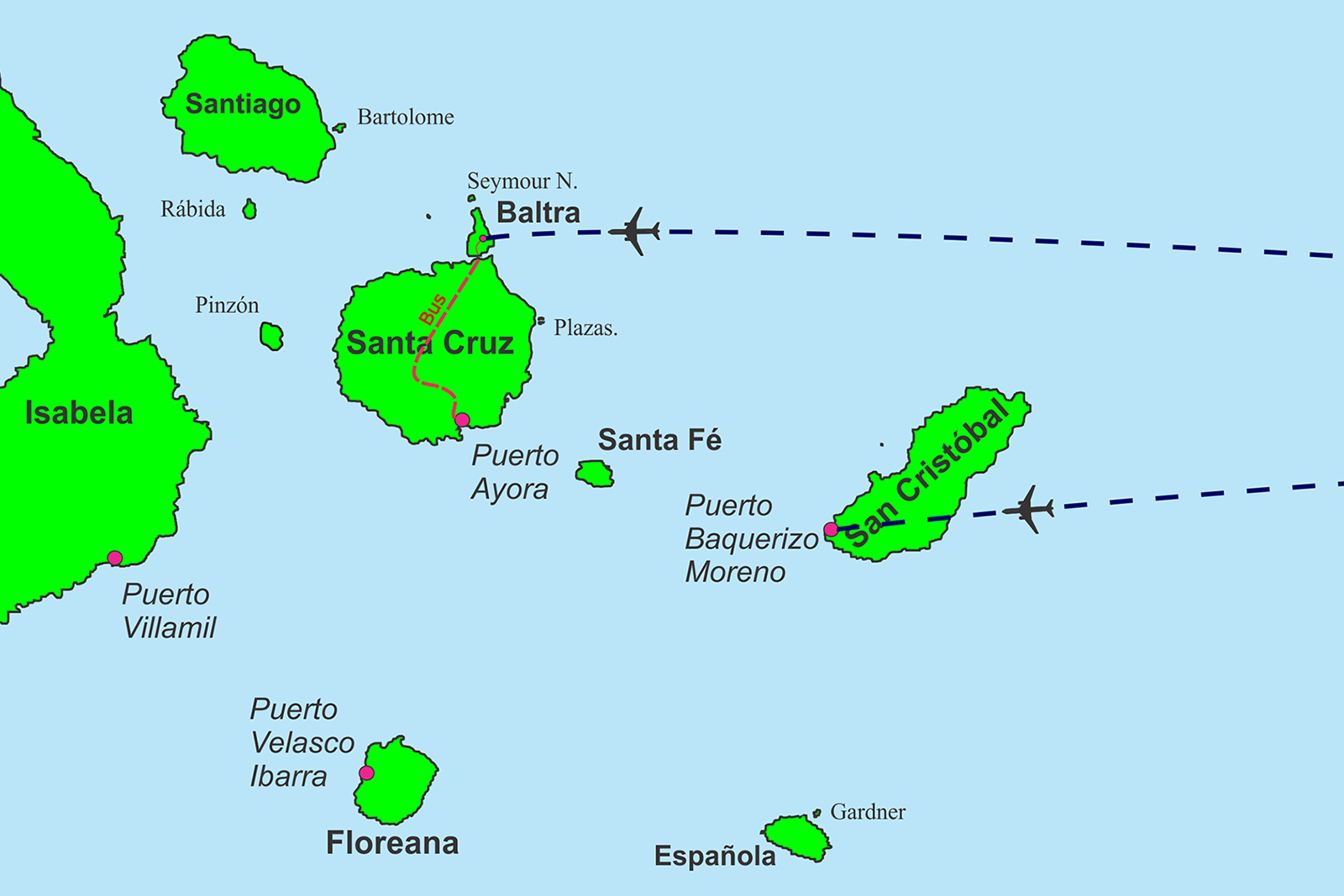 Flights From the Continent
Two airlines fly to San Cristóbal, from Quito and Guayaquil:
Most flights from Quito pass through Guayaquil en route to and from Galápagos. Flights leave in the morning, arriving between 9:00am and 1:30pm, and return in the afternoon, arriving between 3:00 and 5:30pm.
Flights to Galápagos leave in the morning and return in the afternoon. They do not refuel in Galápagos.
San Cristóbal airport is on the outskirts of Puerto Baquerizo Moreno, just 5 minutes' taxi-ride from the Galeodan Suites. The airport code is "SCY".
Santa Cruz is served by the airport at Baltra, on the island of Seymour. From the airport, you take a bus to the ferry which takes you across the Itabaca Channel for another bus or taxi to Puerto Ayora (the main port). The transfer takes 45 minutes to an hour. The airport code for Baltra \ Seymour is "GPS".
NB: Be sure to choose the correct airport. Many schedules refer to Baltra (GPS) as "Galápagos".
Quito to Guayaquil takes about 30 minutes and Guayaquil to Galápagos 1 hour, 40 minutes. With the stopover in Guayaquil, the trip takes just over 3 hours.
Quito Airport, Mariscal Sucre, code "UIO" is some 35km \ 20 mi from downtown Quito, in the town of Tababela. The transfer, by bus or taxi, can take 1 to 2 hours, depending on traffic. There is a good choice of hotels and B&B's in Tarbabela, as well as a Wyndham Hotel next to the terminals.
Guayaquil Airport, José Joaquín De Olmedo, code "GYE", is in the city. Unless you plan to spend a full day or two sightseeing in and around Quito, it is more convenient to come via Guayaquil.
Getting Around the Islands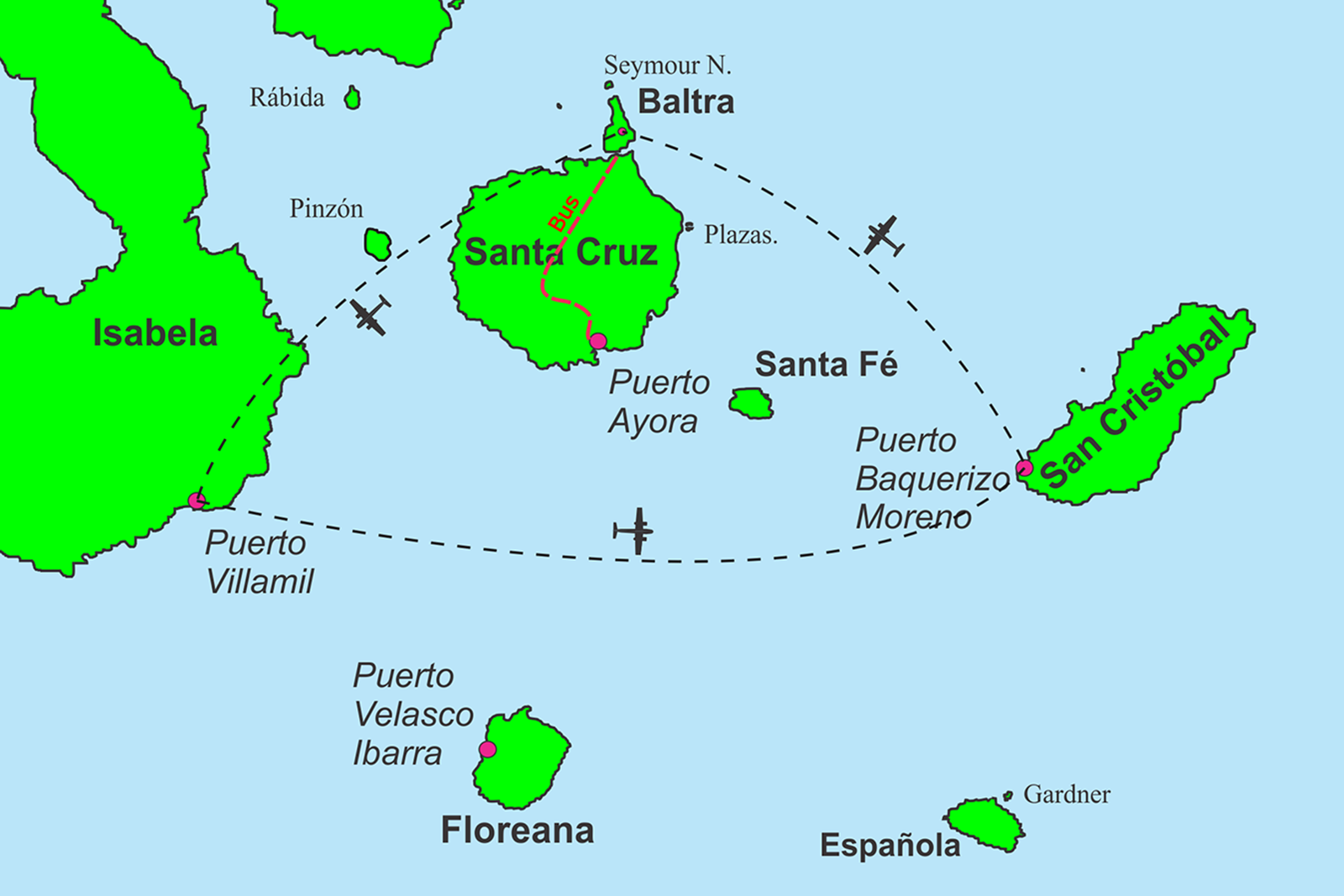 By Air: Island-Hopper Flights
You can take island-hopper flights between San Cristóbal, Baltra and Isabela. The San Cristóbal and Isabela airports are close to town while the airport for Santa Cruz (Baltra) is an hour out of town by bus, taxi and ferry.
At this time, there are two operators:
EMETEBE emetebe.com.ec
ESAV esavairlines.com
Both carriers use small twin-prop aircraft for 6 to 8 passengers. Ticket prices for foreigners vary between $145 and $190 depending on route and season.
Flights are scheduled to get passengers to San Cristóbal and Baltra in time for departing flights and to take passengers from arrival in the morning.
The baggage allowances are 20-25lbs with $1 to $2/lb for excess. If you have exceptionally heavy bags, they may have to follow on a later flight.  There may be an extra charge for large items such as surf boards.
By Sea: Inter-island Speedboats
Speed boats with 20 to 25 passengers provide daily transfers between San Cristóbal, Puerto Ayora (Santa Cruz) Isabela and Floreana.
Crossing times are dependent on sea conditions which range from dead calm to choppy. It is seldom really rough but the boats push on through regardless and it can be a bumpy ride!
San Cristóbal (Puerto Baquerizo Moreno) to Santa Cruz (Puerto Ayora) is 80km (50mi) \ 1.5-2hrs
Santa Cruz to Isabela (Puerto Villamil) is 85km (53mi) \ 1.5-2hrs
Santa Cruz to Floreana (Puerto Velasco Ibarra) is 65km (41mi) \ 1.1-1.6hrs
The crossing between San Cristóbal and Isabela requires 2 trips: San Cristóbal >< Santa Cruz and Santa Cruz  >< Isabela. At this time, there is no regular direct service between San Cristóbal and Floreana.
The boats leave at:
7:00AM and 3:00PM from Puerto Baquerizo Moreno (San Cristóbal)
7:00AM and 3:00PM from Puerto Ayora (Santa Cruz)
6:00AM and 3:00PM from Puerto Villamil (Isabela)
Times can change - Check before making your plans.
There are several operators, each providing one or more boats. The number of boats crossing on any day depends on demand and is generally determined only a day or two in advance. We recommend booking at least a couple of days in advance: the boats may be full - Or they may not run some boats if they can't fill them.
Each crossing costs $30, purchased at the piers and local agencies. There are online agencies that sell the tickets with a small handling fee and we are happy to make reservations for our guests.
Land Transportation
Taxis are used for most inland trips. Almost all the taxis are white king-cab trucks which carry 3 or 4 passengers and their luggage.
Buses are mostly used for organized sightseeing trips but there are some regularly served routes such Puerto Baquerizo Moreno to Puerto Chino (beach), in San Cristóbal and Puerto Ayora to Baltra Airport in Santa Cruz.
Importation of regular cars, motor scooters and motor bikes is tightly regulated to minimize environmental impact. They are not available to rent.
You can rent a bicycle or electric scooter.