Maximum Excitement!
Minimum Impact
San Cristóbal Fishing - Absolutely the Best
The waters of the Galápagos Marine Reserve are world-renowned for variety and abundance of all species but especially for Marlin: Striped, Blue and Black. And the undisputed capital of Galápagos Fishing is Puerto Baquerizo Moreno, San Cristóbal, from where a Park-licensed Vivencial Fishing boat can take you:
Offshore for big game, including:
Marlin - Striped, Blue & Black
Tuna - Yellowfin & Big Eye
Dorado \ Mahi Mahi \ Dolphinfish
Amberjack, etc...
Inshore for:
Tuna
Wahoo
Grouper
Snapper
Sierra
Wrasse etc.
Join Us - On Leodan and the Eco Fishing Fleet
Leodan is our 33' (10m) custom-built offshore fishing boat. She is the last of the first generation Vivencial Fishing boats. Others have up-sized, but we are happy with her solidity, unique layout and stability in choppy seas. Leodan is equipped with twin 200 HP outboard motors, GPS, fishfinder, outriggers and fighting chair.
The Eco Fishing boats (Leodan, SamySol, and Coyote) carry state of the art equipment for trolling, popping, jigging, even fly fishing.

Where We Fish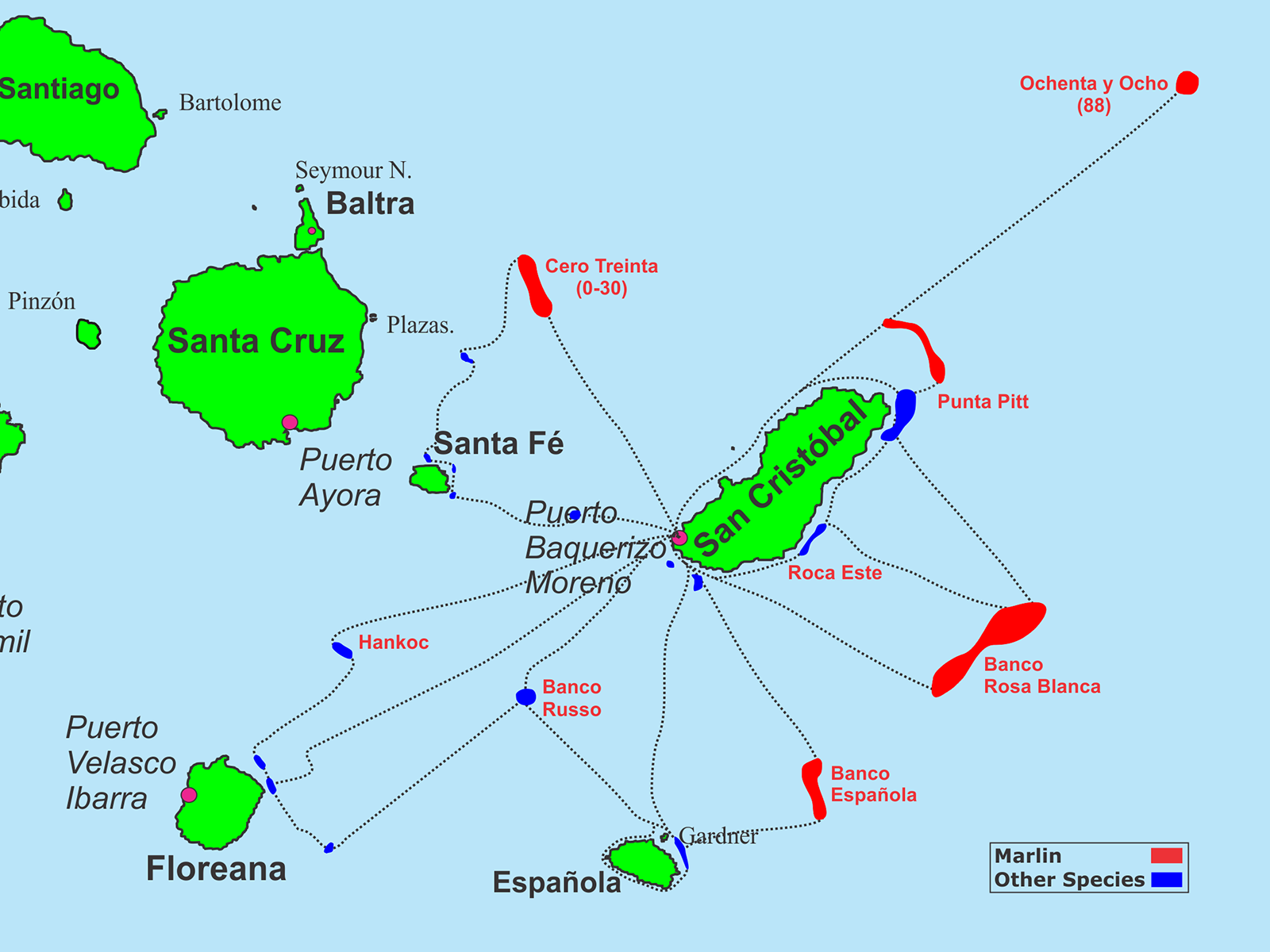 San Cristóbal offers an exceptional variety of species and spectacular locations to suit every type of angler, both inshore, for wahoo, tuna, grouper.... (Pesca Chica) and offshore, for marlin, dorado, tuna .... (Pesca Altura). Leodan is perfect for either and you can even mix the two, depending on your preferences or where the fish are biting that day - We call that Pesca Mixta.
In practice, the distinction between Pesca Chica and Pesca Altura is indistinct since the best locations to fish wahoo, tuna, and grouper require travelling as far, or further, than to the marlin banks. For example: Punta Pitt is often the best area of San Cristóbal for Pesca Chica but it is just as far from port as inshore Española - Refer to the map, and table which follows...
In the map, the offshore Marlin (Pesca Altura) banks are shown in red ; the inshore and offshore (Pesca Chica) banks, in blue .
Distances to the Fishing Banks
Pesca Altura (Marlin, Tuna...)
Banco Española (N)
26nm
30mi
48km
Cerro Trenta
28nm
32mi
52km
Banco Rosa Blanca (SW)
33nm
38mi
61km
Ochenta y Ocho (88)
68nm
78mi
126km
Pesca Chica (Tuna, Wahoo...)
Banco Russo
22nm
25mi
41km
Española
28nm
32mi
52km
Punta Pitt
30nm
34mi
56km
Hankoc
38nm
44mi
70km
Floreana
49nm
56mi
91km
When We Fish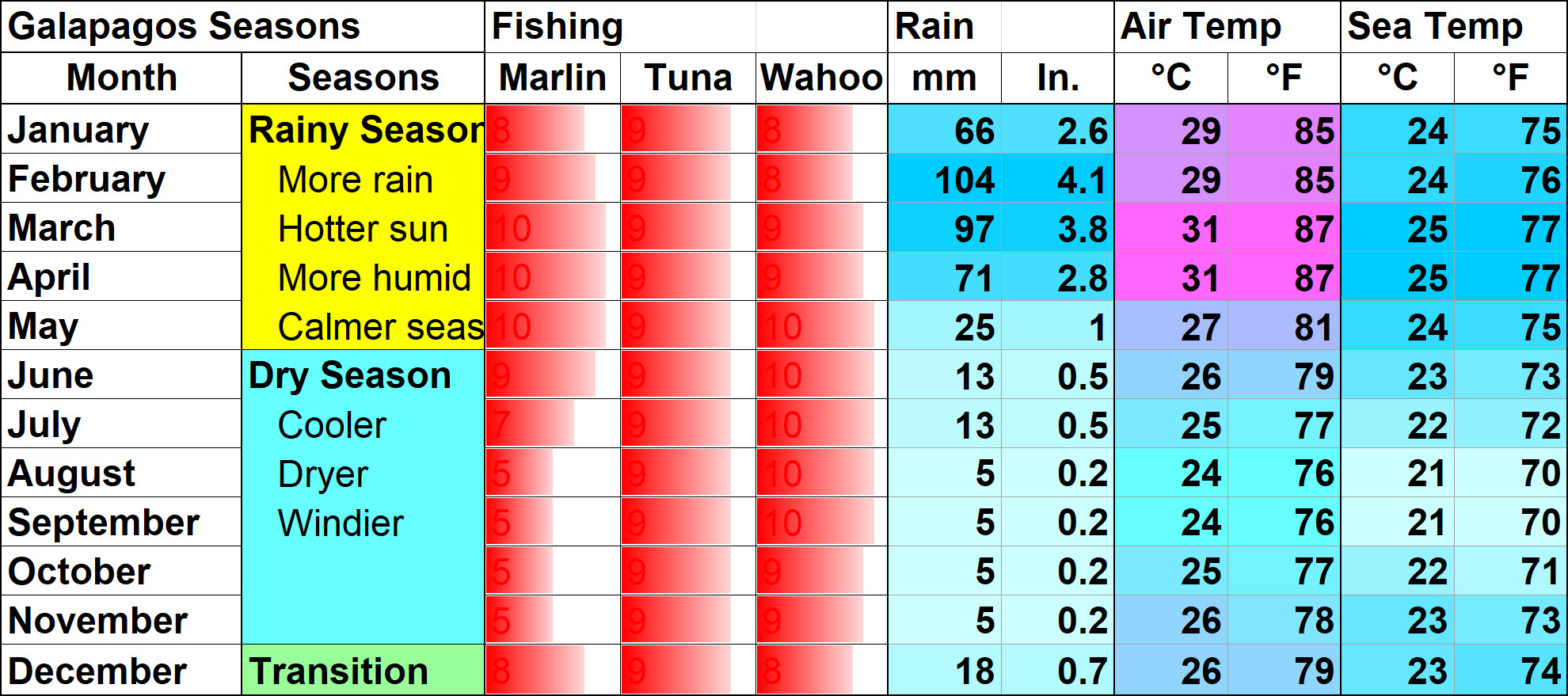 In Galápagos, we experience two seasons: the rainy season from December through May and the dry season from June through November. However, even in the rainy season it seldom rains for long although, on occasion, it will rain hard.
Most species, including striped marlin, yellowfin tuna and wahoo are here year-round, but peak season for big-game fishing is December thru June when striped marlin are most abundant and the seas calmer.
While the seasons are distinct, the difference is not such that it would deter you from coming here at any time during the year. "High" and "Low" tourist seasons are a consequence of external factors such as winter in North America and Europe (November through April) or the school holidays (June through August).
Why Fish with Galeodan?
Sustainable Fishing Using Local Resources & Knowledge
Consistent with the Regulations, we employ a local captain and mate who have been fishing these waters for years, with eyes and experience unmatched by outsiders. Don't let anyone kid you otherwise: no-one knows more about finding fish in the Galápagos than the Galápagos fishermen.
We Catch & Release
On a Vivencial Fishing excursion we keep just 50lbs of fish, or one of any size, and release the rest. Still, the 50lb limit is more than enough for our guests to enjoy a tasty tuna, wahoo or grouper, cooked in one of our Suites or in a local restaurant.
All marlin are released.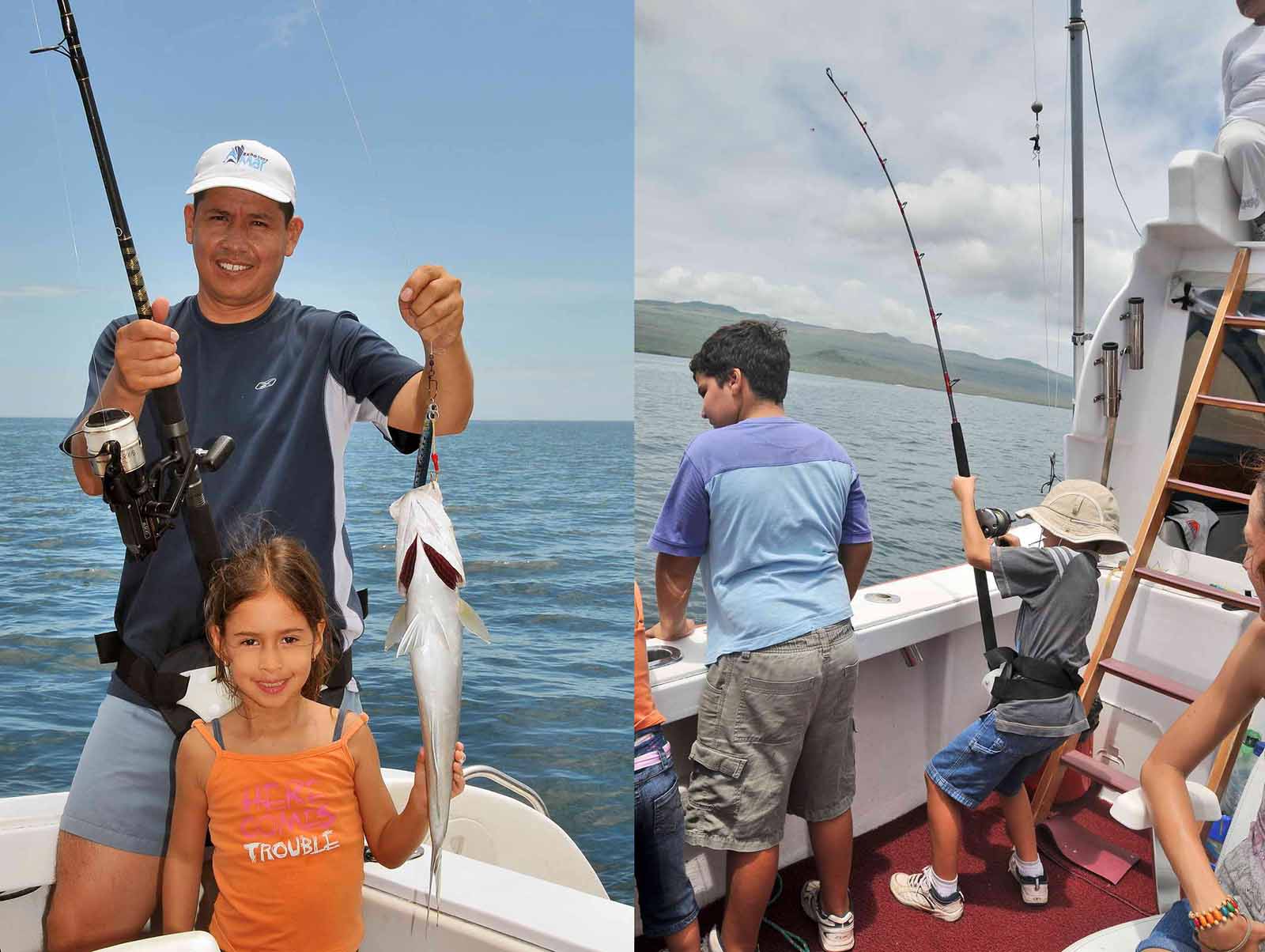 We Are Family Friendly
When fishing for marlin we generally take no more than 4 anglers on one boat and for larger groups we charter boats from our colleagues in the Vivencial Fishing community. However, we do make exceptions to the 4-angler limit for families who particularly want to be on the same boat. Children are always welcome.
Ensuring Marlin Survive The Encounter
Marlin is a wonder to behold - With flashing iridescent colours and moves to match. But an encounter with humans can be perilous, so we take steps to maximize survival. We bring the fish in exhausted just enough for us to safely remove the hook and then resuscitatewe it by pulling alongside the moving boat for a few minutes while the gills are irrigated by flowing water. We do this until the fish is kicking and ready to go.
In recent years the tide of opinion has turned solidly against dragging a fish into the boat for "trophy-photos". And for good reason; aside from the physical impact of handling, it is extremely stressful for the fish to be removed from its proper environment of buoyant and oxygen rich water when it is already exhausted.
Fish that have been removed from the water, even briefly, have a mortality rate many times higher than those that have been left in the water. Here is an extract from an article by the Billfish Foundation:
"When it comes to billfish, being pulled from the water and into a world with no oxygen after an exhausting fight can be deadly. Even if the fish arrived at the boat in good condition, the stress of being removed from the water can kill it. What's more, billfish have an exterior coating that protects them from disease, which can easily be rubbed off when pulled onto a boat and handled. The tricky thing is that the fish may appear fine upon release, but it's not uncommon for the stress and diminished immune system to kill the fish several days later."
So, please do not ask us to drag this beautiful creature out of its element and onto the boat for "Hero Photos". There will be ample time for memorable photos at the side of the boat.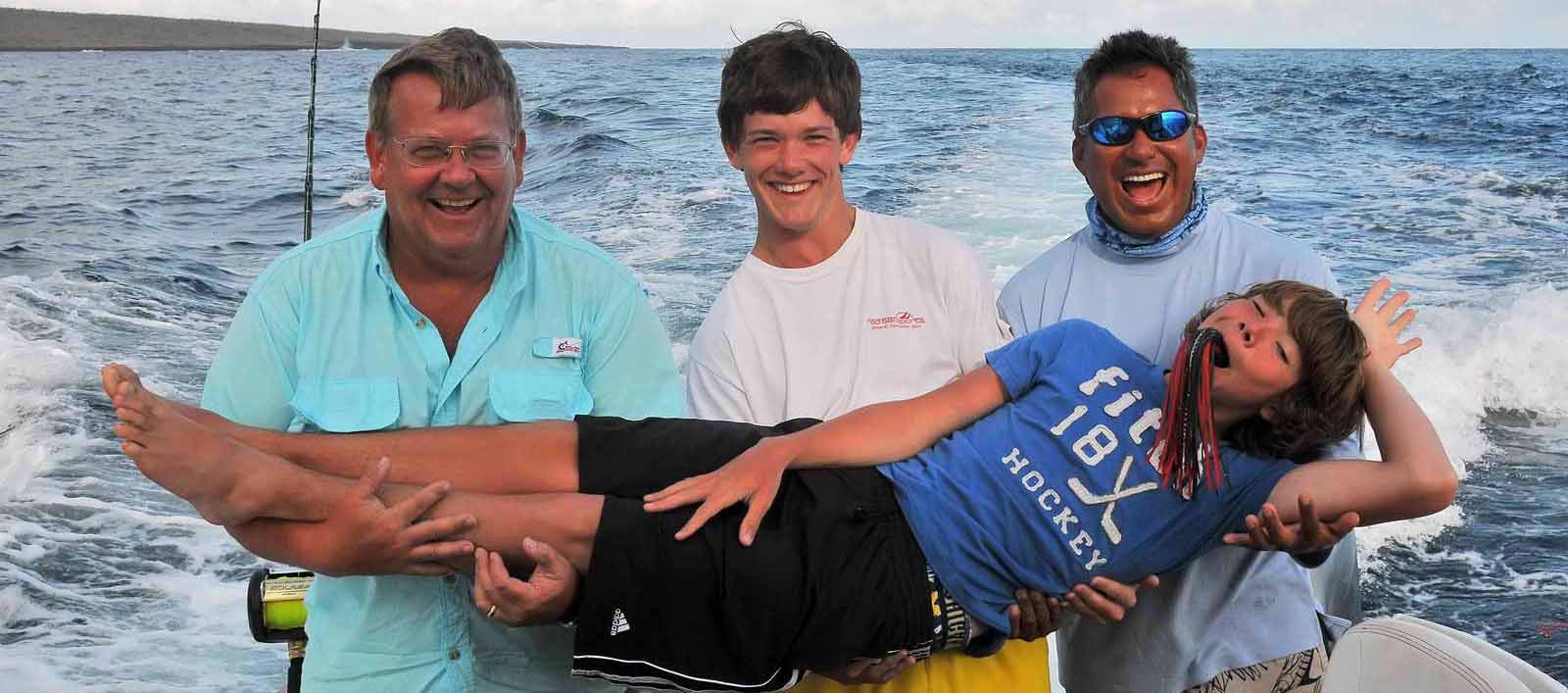 Thanks Greg, Austin, Andrew & Humberto for showing us how to get the perfect "Trophy Photo".