For Your Safety and Comfort in Galapagos
Updated: 2023-02-20
From October 20, 2022, travelers are no longer required to provide proof of vaccination, or a recent negative test, for entry to Ecuador and Galapagos. However, masking and distancing mandates are reinstituted from time to time – see below.
---
Travel in times of the Covid-19 pandemic has been greatly complicated – Particularly when it comes to visiting the Galapagos Islands. Because of our isolation, and relatively elderly population, we are especially vulnerable to the impact of the pandemic. We do have an excellent and modern hospital in San Cristóbal, but it does not have the capacity to deal with an outbreak of infections. For this reason, the local authorities have added an extra layer of security for visitors to the islands, over and above that required for visitors to continental Ecuador.
In addition to the enhanced security measures for entry to Ecuador and Galapagos, local authorities have issued a set of guidelines and protocols, to all sectors of the tourist industry, directing measures to minimize the risk of contagion while hosting, transporting and guiding tourists.
Wherever requirements, such as use of face masks, interpersonal distancing and mandatory isolation are in place, they apply to travelers as well as to their hosts, and will be enforced by local authorities.
This guide is based on our current knowledge of the protocols. We cannot predict how strictly they will be applied, or how they may change in response to current circumstances.
Insurance
Even in the best of times, we urge travelers to obtain travel interruption and cancellation insurance. Now, during the recovery phase, there are still more than the usual number of flight changes and cancellations. There is also the risk of testing positive for Covid-19 and having to cancel your flight and/or pay for an extended stay in your destination.
Article 49 of the Special Law of Galapagos (LOREG) requires that all foreign tourists visiting Galapagos carry private health insurance which covers the considerable cost of air-evacuation to the continent in the event of serious injury or illness. You should not assume that your existing public or group insurance is adequate.
Despite the legal requirement, travellers are hardly ever asked to produce documentation at the airport - The Ministry of Tourism and major tour operators consider it bad for business). This has led to the widespread belief that insurance is not required. However, if you do suffer an emergency with significant medical costs, such as an air-ambulance at $15k to $20k, the hospital will be asking for your insurance.
There are several providers selling travel and health insurance which covers the impact of Covid-19. You will find a few of them <here>
Requirements for Entry to Ecuador and Galapagos
From October 20, 2022, Ecuadorian authorities no longer require travelers to provide proof of vaccination, or a recent negative test, for entry to Ecuador and Galapagos.
Operators of liveaboard cruises and other organized group activities may still require vaccination and testing.
Passengers exhibiting Covid symptoms on arrival at the airports may be tested and required to isolate in the event of a positive result.
Documentation Required for Entry to Ecuador
Foreign visitors must possess a passport with at least 6 months of validity.
From February 17, 2023, travellers in good health do not need to complete the Health Declaration Form before, or on arrival in Ecuador. However: "…people who present symptoms such as high temperature, coughing, general malaise, loss of smell, loss of taste, skin rashes,.." must complete the form either online, or in physical form, on arrival in Ecuador. The physical form should be deposited in a designated mailbox. The online form is available at: https://declaracionsalud-viajero.msp.gob.ec/
Additional Documentation Required for Entry to Galápagos
Visitors to Galapagos must apply for a Transit Control Card (TCT) which costs $20 each and requires you to enter details of your visit. They like visitors to do the application online, at: http://www.gobiernogalapagos.gob.ec/pre-registro-tct/ (opens in a new window) . It's all in Spanish, and does not acknowledge receipt. Even then, you still have to pick up your card at the airport, so many travelers do the entire application at the airport. When completing the registration, note that the Galeodan Suites are registered with the Ministry of Tourism under the name of "Jardin de Helena" .
Although Galapagos law requires you to carry insurance against emergency costs, such as medical evacuation, you will probably not be asked to show proof (see comments above).
Please take all due precautions in your travels prior to departure for Galapagos. Please self-monitor for symptoms of Covid-19 as it will better to know before you get here and get turned away at entry, need to isolate on the island, or even be evacuated back to the continent by air-ambulance.
While in Ecuador & Galapagos
While there is no longer a nationwide mandate on masking or personal spacing, protective mandates are reinstated, from time to time, on a provincial basis, in response to developments in the receding Covid-19 pandemic, or other health alerts.
Until recently, many institutions, such as banks and government offices, still required masking and distancing. Some premises still do. We recommend travelers travel with masks at hand in case needed.
On December 20, 2022, the Emergency Operations Committee of Ecuador announced an extension of the mandatory use of masks in closed spaces and places where distancing cannot be maintained. That includes public transport, mass events, educational and health institutions.
At any time that you receive a positive or even inconclusive test result, you will have to re-schedule or cancel your ongoing plans and enter mandatory isolation. That will usually mean staying in your current accommodation.
Staying in the Galeodan Suites
By design, the Galeodan Suites offer enhanced privacy and health security:
Private entrances and balconies (or terrace in the Penthouse)
No lobby or enclosed public spaces
Fully equipped kitchenettes for serviced self-catering*
* We provide unlimited drinking water plus coffee, milk, tea, eggs, bread rolls, margarine, jam and fruit for breakfast. Plus salt, pepper, oil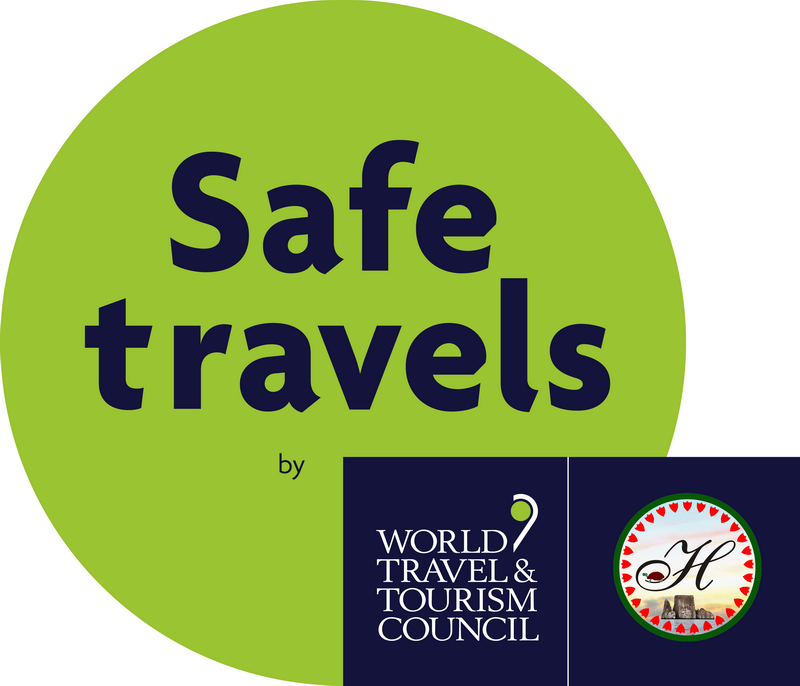 Galeodan Suites has qualified to carry the Safe Travel Seal , awarded by the WTTC (World Travel and Tourism Council) to establishments that meet their enhanced security and sanitation guidelines for accommodation in the context of the Covid-19 pandemic.
Testing in Galapagos
If the timing of your return to the United States or other parts requires you to take a Covid test before leaving Galapagos, you can do this in San Cristobal or Santa Cruz.